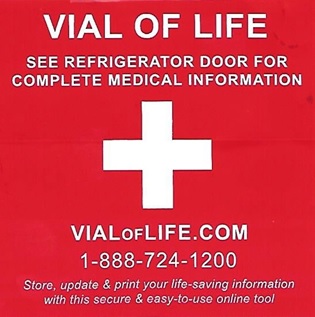 Three Star Volunteer Fire Department is pleased to announce a new program that will help first responders (Police, Fire, and EMS) to get the needed critical information if there is an emergency. The program is nationwide and FREE to anyone. The program is called Vial of Life.
The process is very simple. All you have to do
1. Click here to access and print the form
2. Fill in the necessary information
3. Place the information in a plastic baggie with Vial of Life Sticker on it and put on your refrigerator.
We also have the forms with plastic bags and Vial of Life stickers at Three Star Volunteer Fire Department for anyone, FREE of charge. If you need assistance please call (901) 476-8183 to make arrangements to meet with program manager. We are not manned all day.
The critical information on the form is vital to First Responders when trying to get your medical information. It is suggested to add a photo to form and family contact information.
For more information or if you have questions, call, email or come by Three Star Volunteer Fire Department