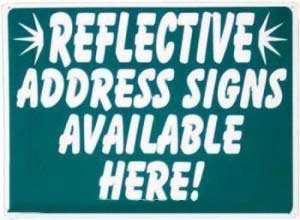 Click on Sign to Print Ordering Form!
Time is critical. Help us find your residence by displaying your address number so that emergency personnel can quickly locate your house during an emergency situation. Three Star Volunteer Fire Department offers these reflective signs for just $15.00 a piece. We will create, deliver, and install on your existing post, within the Three Star fire district. Please call (901) 476-8183 to make arrangements to drop off form. We are not manned all day.
Made from the same materials as official traffic signs, your 911 address signs are guaranteed to last for years and clearly mark your home address
All proceeds will benefit the Three Star Volunteer Fire Department.